Access new resources and clients at Meet the Remodeler
Date posted
October 27, 2023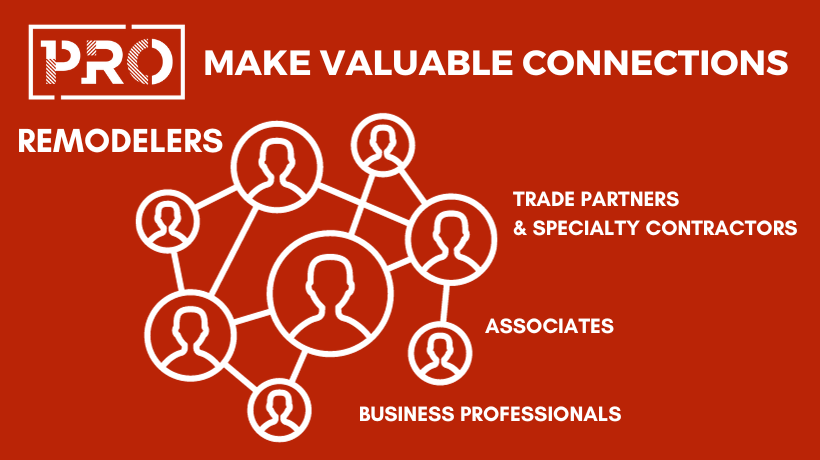 It's that time of year -- when new connections are made and business challenges get easier because you know the right people. Join PRO Metro DC as we meet for a speed-dating style event where Associate Members can meet one-on-one with PRO's top notch remodelers. The event is being hosted by Tart Lumber in Sterling on November 15 and at the Tile Shop in Rockville on November 16. Remodelers, you can attend for free!
Associates, you will have five minutes of time to visit each remodeler's table and discuss your products and services. It's a perfect opportunity to get in front of multiple remodeler member decision-makers at one time.
Register for the Virginia event
Register for the Maryand event
Check out the remodelers who are attending:
Anchor Property Services
Anthony Wilder Design/Build
Blue Star
BOWA
Case Architects & Remodelers
Honor-Roll Remodeling
MOSS Building and Design
MW Burke
Schroeder Design/Build
Synergy Design & Construction
Anthony Wilder Design/Build
Armstrong Construction Services
CARNEMARK design + build
Erika Jayne Design Build
House to Home Solutions
Merrick Design and Build
Spectrum Design Build
Tabor Design Build
TriVistaUSA Design + Build
Remodelers, why should you take the time to attend?
You'll forge strategic, trusted partnerships that will help you increase revenue and boost your bottom line.

You'll find solutions to the immediate challenges that your business faces every day.

You'll save your design and production team time by making future connections at this one-stop event.

You'll connect with experts who can meet your business professional needs.