PRO Certification
Show your expertise and dedication to furthering excellence in the industry
PRO offers certifications in 10 specialty areas to recognize highly experienced remodeling professionals, capable of planning and managing complex remodeling projects to client satisfaction. Certified professionals represent an elite group of industry experts who possess extensive technical and management skills that set them apart as capable remodeling professionals. The PRO Certification Board governs PRO Certifications.




PRO Certification

Members of PRO may use certifications issued by other remodeling organizations recognized by PRO [1] to fulfill the initial PRO Certification. Utilizing another remodeling organization's certification program to fulfill PRO Certification requirements does not impact your certification through the other remodeling organization. PRO does not have any reciprocity of certification with, or affiliation with other remodeling organizations. [1]




Certification Period and Fee

Your initial certification will be valid for the remaining time on the industry certification plus ONE YEAR. The FEE for initial certification is $50, payable upon application to your local PRO Affiliate. Please complete this form and return it with your payment to connections@promidatlantic.org or mail it to PRO Mid Atlantic, PO Box 3462, Merrifield, VA 22116. To apply or renew your certifications please click the button on the right.




PRO Continuing Education Requirements

PRO measures continuing education in PRO Units. One hour of approved continuing education earns one PRO Unit. Twelve PRO Units are required for Certification renewal each year. PRO offers a variety of approved options to meet this requirement, including in-person affiliate-based meetings and training sessions. Seminars provided by PRO members that build industry knowledge are accepted, including product specific training. Of the 12 required PRO Units:

6 PRO Units are required that are seminar / classroom-based, either in person or virtual, on topics directly related to your Certification
Up to 3 PRO Units may be provided by subscription to and reading of industry-related Trade Publications
Up to 6 PRO Units for writing an article or blog post for Trade Publications or PRO website
Up to 6 PRO Units may be provided by serving your local or National PRO organization, 1 unit for each committee or board meeting attended
Up to 6 hours of Community service directly related to the remodeling industry, such as working on a Habitat for Humanity® or Rebuilding Together Project®

The requirements and conditions of certification are set by the PRO Certification Board. This board is composed of members from each PRO Affiliate to establish uniform requirements and conditions on the PRO, Inc. Education Committee level. Your new certification will be issued and administered by your local PRO Affiliate by the authority granted from the PRO Certification Board.

Click here for new applications

Click here to renew your certification

PRO President Michael Sauri and Tom Faller of Remodelers Advantage at the 2021 Education Day & Expo
Initial Certification Requirements and Conditions
The requirements and conditions for certification are:
PRO Certifications are limited to Owners and employees of PRO Member Companies.
A valid certification issued by NARI®, NAHB®, or NKBA® that is current or within one year of its last renewal. [2]
You may submit a certification issued by a remodeling organization not listed above to the PRO Certification Board for consideration to fullfill the requirements of Certification. Decisions by the PRO Certification Board may be appealed to the PRO, Inc. Board of Directors. The PRO, Inc. Board of Directors' decision is final.
Submission of 12 PRO Units of approved continuing education. Approved continuing education programs may be remodeling business or trade-related seminars, either in person or virtual, offered by PRO or any other trade association or private business that builds industry knowledge. Specific product-based and installation training education is not an approved program. Reading Trade Publications may only account for one quarter of the required 12 hours.
Acceptance and adoption of the PRO Code of Ethics as a Certified Professional.


The following Certifications are recognized: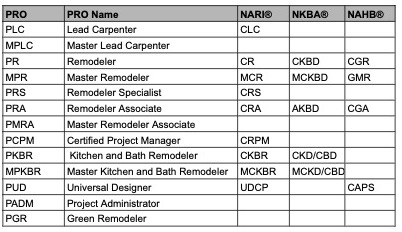 [1] PRO is not affiliated with nor maintains reciprocity agreements with NARI®, NAHB®, or NKBA®. Certification is not a transfer of another remodeling organization's certification. PRO does not own, control, or participate in any other remodeling organization's certification program.
[2] TRADEMARKS: All product and company names are trademarks™ or registered® trademarks of their respective holders. All references to other trademarks belonging to third parties or referring to branded programs shall refer to those registered trademarks owned by others and not to any trademark belonging to PRO. Use of them does not imply any affiliation with or endorsement by them. Other product and company names mentioned herein may be trademarks of their respective owners.