Remodeler's Advantage - Master Your Remodeling Business Workshop
---
Tuesday, March 7, 2023
to Wednesday, March 8, 2023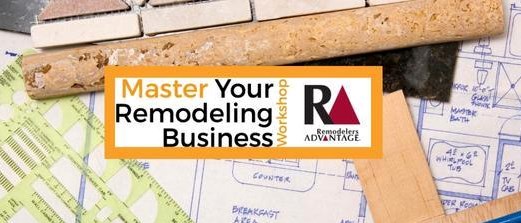 PRO members are invited to join Remodelers Advantage for a workshop that will help you discover the advanced methods of growth and profitability used by top remodeling companies in the US and Canada. 

Learn how to make your company, and your life, what you want it to be.
During this fast-paced, interactive learning event, you will:
Learn to focus on business practices that deliver the most profit
Master LEAN basics & work easier, better, faster, and cheaper
Create your success roadmap: planning, budgeting, & execution
Discover how to attract the best clients, and win every sale
Identify how to win the war on talent acquisition
Learn sales systems that work
Uncover solutions to YOUR burning issues through our Masterminds session
And more...
This exciting and informative event happens on March 7th and 8th at The Hotel At Arundel Preserve in Baltimore, MD.


Registration Information
PRO Mid-Atlantic members receive $500 off using the promotion code PRO at checkout.


Remodelers Advantage and PRO share a common mission: Elevate the remodeling industry.  PRO Members receive significant discounts to Remodelers University, RA Summit and RA Events.