PRO After Hours hosted by Tague Lumber
We're (Still) Hiring: How to Win the War on Talent Acquisition & Retention
---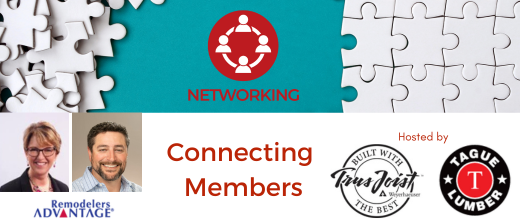 Join PRO Greater Philadelphia for a PRO After Hours hosted by Tague Lumber with an educational presentation by Victoria Downing and Mark Harari from Remodelers Advantage.
4:30 - 5:30 | Networking Happy Hour
5:30 - 7:00 | Announcements & Educational Presentation
Educational Presentation: We're (Still) Hiring: How to Win the War on Talent Acquisition & Retention
We're experiencing a business environment where access to top talent is not only putting a strain on productivity, but also limiting growth. Your talent strategy directly impacts your business performance, yet most don't give it the attention it deserves.
Indeed, the art of finding good talent has long mystified even the most progressive business leaders. But the stakes are too high to treat talent as an afterthought.
The good news? There are simple steps to transform your recruiting process from uncoordinated and desperate to systematic and competitive.
Join Mark Harari and Victoria Downing from Remodelers Advantage in a dynamic and engaging session that will revolutionize the way you approach talent acquisition and retention in today's competitive business landscape.
Discover the practical steps to transform your recruitment process into a well-orchestrated, competitive machine that consistently attracts and retains the top talent in your industry – even in the most cutthroat markets.
What you'll learn:
Learn about Talent Pipeline Development and how to create a proactive and consistent flow of qualified superstars for your business.
Gain insight into a Streamlined Recruitment Process that will minimize time-to-hire while maximizing the quality of your hires.
Discover the importance of your Employer Value Proposition and how to showcase your company as a desirable employer through effective branding and communication.
Victoria Downing, President of Remodelers Advantage Inc., is a leading authority in the remodeling industry. For nearly 30 years, Victoria has worked with owners of remodeling companies across the United States and Canada, to help them build strong, consistently profitable businesses. She is known for her high-energy educational seminars as well as her in-depth knowledge of the best practices that transform company performance. Victoria has created the industry's largest community of motivated remodelers through Remodelers Advantage University and the Roundtables Peer Group Program. Currently, the members of this community produce over $1 billion in revenue annually.
Mark Harari is a highly-regarded industry expert, bestselling author, and Vice President of Remodelers Advantage, an organization dedicated to providing comprehensive resources, strategies, and solutions to help remodeling businesses succeed. In his 20+ years he's won numerous marketing awards for web design, video, copywriting, advertising, and more
For More Information: