Sponsored Post: CostCertified optimizes tech for your sales and estimating strategy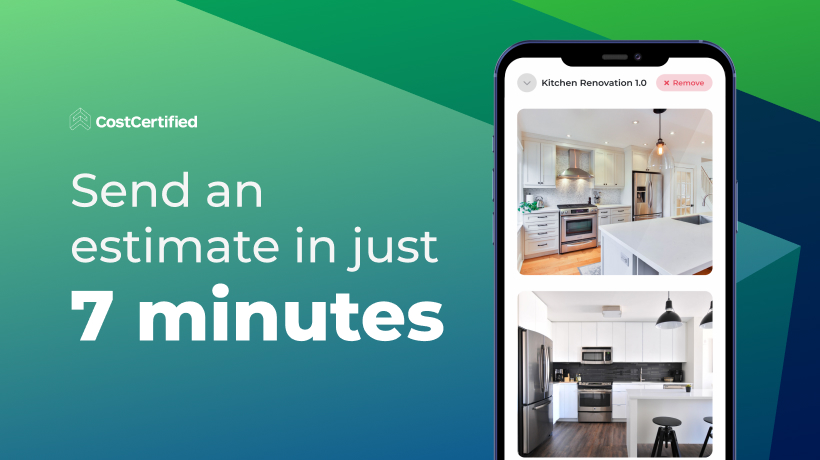 As a contractor, a streamlined estimation and sales process is critical to your company's success. Our newest sponsor, CostCertified, is able to deliver a full-spectrum solution to help you with just that. Their incredibly powerful and user-friendly software will help reduce your time spent quoting by up to 80%, while presenting your customers with digital proposals that will blow your competition out of the water. Your clients can now make visualized changes and upgrades, based on your products, while seeing price updates in real-time. These changes come back to you in the form of an approvable change order, removing the hassle of constant back-and-forths with your customers.
PRO Members are elible for a 15% discount on the yearly subscription rate for CostCertified. Contact them today!
CostCertified is on a path to truly revolutionize the construction industry for contractors and homeowners alike. "As a contractor, I didn't have the tools to support the price complexity of large construction projects." Mike Bignold, CostCertified's CEO, said. "I thought to myself, why can't you buy or sell construction services with the seamlessness and detail of an Amazon-like experience?"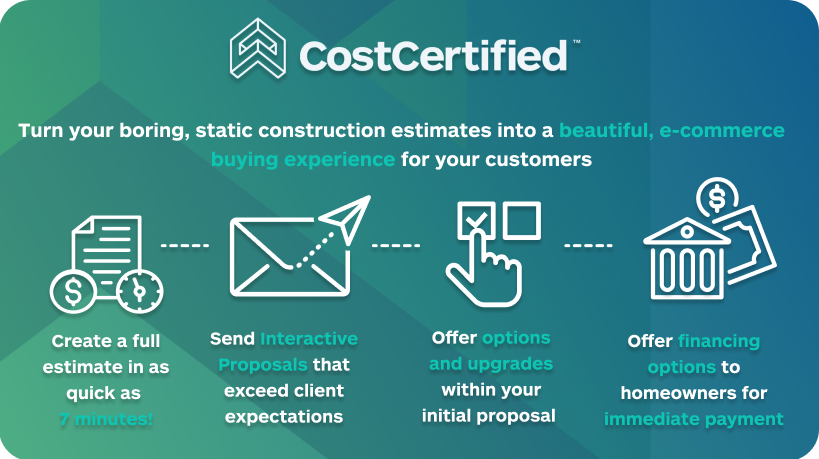 While the platform's most prominent feature is its patented estimation and proposal system, this merely scratches the surface of the application's capabilities. The built-in and intuitive CRM makes managing clients and projects a breeze. You can track a clients interactions with your sent quotes directly on the platform, down to the hour and number of clicks. Gauging a clients interest/hesitations accurately is key to an efficient sales flow, and our CRM will keep your finger on the pulse.
On your side, material take-off and profit calculations are now completely automated. Our Customer Success Team will set up all the details on the backend, using your expertise and preferences, so all you'll need to do is enter measurements and adjust minimal details. The individual Customer Success Manager assigned to you will fully onboard you onto our platform, whilst also supporting you directly throughout your entire journey with us. The transition is absolutely seamless and your personal support will never be more than a text/call away.
With CostCertified's Capital division, invoicing and payments are now simpler than ever. Your customers will be able to make payments directly through the platform, while also not being more than a click away from financing options. Full-project lending, competitive interest, and flexible payment plans will provide your clients with peace of mind whilst ensuring you're never left empty-handed. Of course, we've got you covered as well. Receive capital to reinvest into your projects, team, and equipment at a moment's notice, so your business never stops growing. It is truly an end-to-end solution unlike any other.
Let us show you how exactly CostCertified could take your business to the next level. Book in for one of our comprehensive 1-on-1 presentations today.